KHFM Presents the Met's Saturday Matinee Broadcasts

Saturdays at 11am
Tune in to hear the world's greatest opera stars in exhilarating performances originally broadcast live from the Met stage. Highlights include beloved operas by Puccini, Verdi, and Mozart; dazzling bel canto works; and rarely heard operas by Prokofiev, Strauss, and Philip Glass. Remarkable moments from recent and past seasons include the radio broadcast debuts of Anna Netrebko, Leontyne Price, and Franco Corelli, as well as Renée Fleming's final bow as Strauss's Marschallin. Host Mary Jo Heath and commentator Ira Siff return for the 2020-21 season starting December 5.
Local costs for this program are underwritten by:
Upcoming Broadcasts
The contents of these broadcasts are Copyright © 2020 The Metropolitan Opera, all rights reserved. Any use or reproduction without express permission of The Metropolitan Opera is strictly prohibited.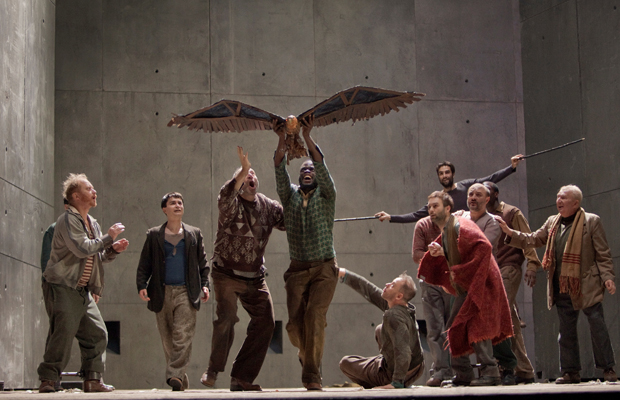 Photo: Ken Howard/Met Opera.
Janáček's
From the House of
the Dead
April 17, 2021
Four prisoners—Stefan Margita (Filka Morozov/Kuzmich), Eric Stoklossa (Alyeya), Peter Mattei (Shishkov), and Willard White (Gorianchikov)—describe the events leading up to their imprisonment in Janáček's final opera based on Dostoyevsky's novel of the same name.
Performance from Dec 2, 2009
Approx. Length: 1 hours 50 minutes
Christine Goerke. Photo: Ken Howard/Met Opera.
Strauss's
Die Frau ohne Schatten
April 24, 2021
Part poetic fairy tale, part meditation on family and marriage, this opera features one of the composer's most ambitious scores. Christine Goerke (Dyer's Wife) is joined by Anne Schwanewilms (Empress), Torsten Kerl (Emperor), Johan Reuter (Barak), and Ildikó Komlósi (Nurse).
Performance from Nov 26, 2013
Approx. Length: 4 hours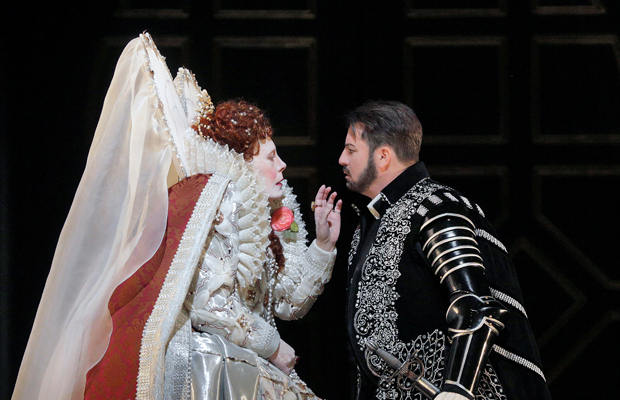 Sondra Radvanovsky and Matthew Polenzani. Photo by Ken Howard/Met Opera.
Donizetti's
Roberto Devereux
May 1, 2021
The dramatic and heart-rending love story of Queen Elizabeth I (Sondra Radvanovsky) and the Earl of Essex, Roberto Devereux (Matthew Polenzani) is portrayed as a play within a play unfolding before members of the royal court.
Performance from Apr 16, 2016
Approx. Length: 2 hours 55 minutes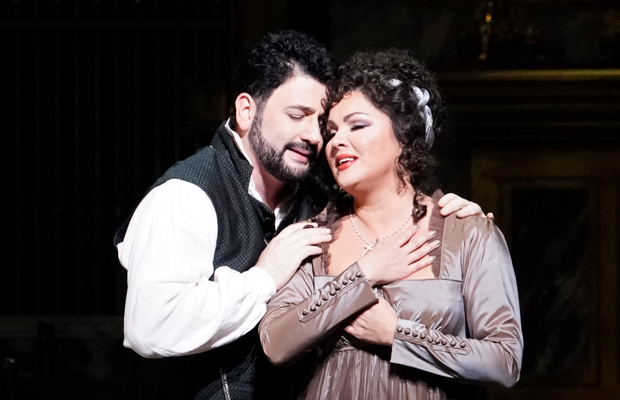 Yusif Eyvazov and Anna Netrebko in "Tosca." Photo: Ken Howard/Met Opera.
Anna Netrebko Puccini Gala
May 8, 2021
Soprano Anna Netrebko stars as Mimì, Tosca, and Turandot in one gala evening. The star soprano sings Act I of La Bohème, opposite tenor Matthew Polenzani, and Act I of Tosca and Act II of Turandot, opposite tenor Yusif Eyvazov.
Performance from Dec 31, 2019
Approx. Length: 3 hours 5 minutes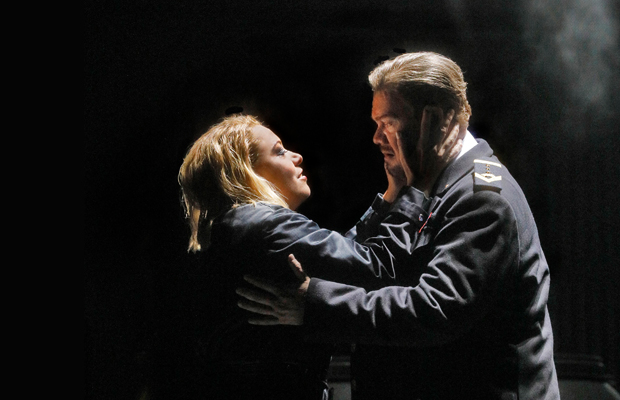 Nina Stemme and Stuart Skelton. Photo: Ken Howard/Met Opera.
Wagner's
Tristan und Isolde
May 15, 2021
In the daunting title roles of the doomed lovers, Nina Stemme and Stuart Skelton are passionate, overwhelming, and heartbreaking as they battle every obstacle that separates them from their true destiny. Simon Rattle conducts Wagner's epic opera.
Performance from Oct 8, 2016
Approx. Length: 4 hours 35 minutes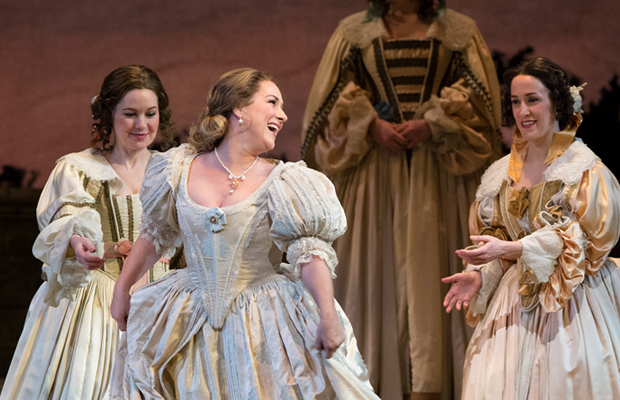 Diana Damrau as Elvira. Photo: Marty Sohl/Met Opera.
Bellini's
I Puritani
May 22, 2021
Bellini's final masterpiece blends political intrigue with the joys and sorrows of young love. Diana Damrau's Elvira slowly unravels in three achingly beautiful scenes. She is joined by Javier Camarena (Arturo), Alexey Markov (Riccardo), and Luca Pisaroni (Giorgio).
Performance from Feb 18, 2017
Approx. Length: 3 hours 35 minutes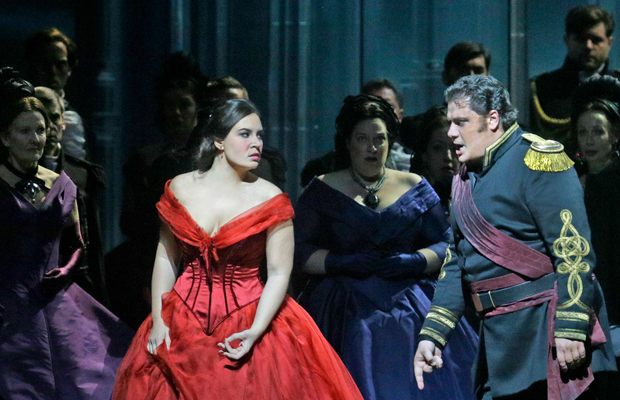 Sonya Yoncheva and Aleksandrs Antonenko. Photo: Ken Howard/Met Opera.
Verdi's
Otello
May 29, 2021
Aleksandrs Antonenko is the Moor Otello, the triumphant general of the Venetian army who is ultimately brought down by the sly insinuations of his friend Iago (Željko Lučić). Sonya Yoncheva plays Desdemona, Otello's faithful and long-suffering wife.
Performance from Oct 17, 2015
Approx. Length: 3 hours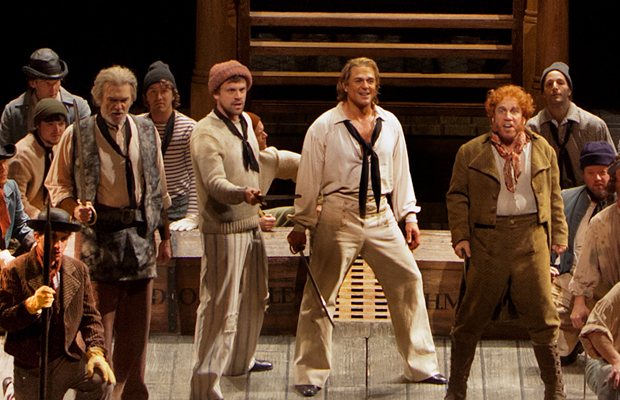 Scene from Billy Budd. Photo: Ken Howard/Met Opera.
Britten's
Billy Budd
June 5, 2021
Dwayne Croft stars in the title role of the handsome young sailor whose kindness and innocence cause his downfall. James Morris is Claggart, master-at-arms on the 18th-century warship Indomitable, who falsely accuses Billy of inciting a mutiny.
Performance from Mar 8, 1997
Approx. Length: 3 hours 10 minutes