KHFM Presents the Met's Saturday Matinee Broadcasts

Saturdays at 11am
Tune in to hear the world's greatest opera stars in exhilarating performances originally broadcast live from the Met stage. Highlights include beloved operas by Puccini, Verdi, and Mozart; dazzling bel canto works; and rarely heard operas by Prokofiev, Strauss, and Philip Glass. Remarkable moments from recent and past seasons include the radio broadcast debuts of Anna Netrebko, Leontyne Price, and Franco Corelli, as well as Renée Fleming's final bow as Strauss's Marschallin. Host Mary Jo Heath and commentator Ira Siff return for the 2020-21 season starting December 5.
Local costs for this program are underwritten by:
Upcoming Broadcasts
The contents of these broadcasts are Copyright © 2020 The Metropolitan Opera, all rights reserved. Any use or reproduction without express permission of The Metropolitan Opera is strictly prohibited.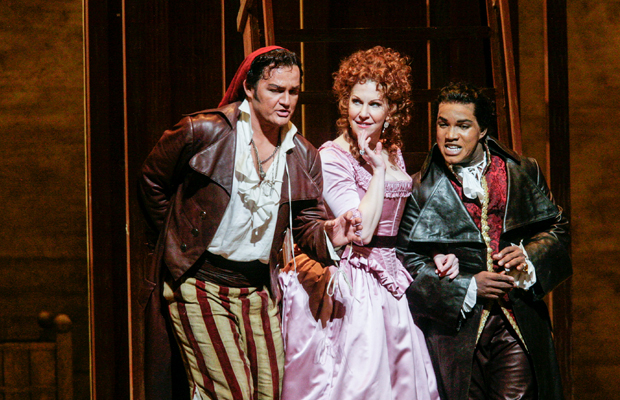 Russell Braun, Joyce DiDonato, and Lawrence Brownlee. Photo: Ken Howard/Metropolitan Opera.
Rossini's
Il Barbiere di Siviglia
January 9, 2021
Bartlett Sher's dynamic production of Rossini's effervescent comedy features a stellar cast: Juan Diego Flórez (Count Almaviva); Joyce DiDonato's (Rosina); Peter Mattei (Figaro, Seville's beloved barber and man-about-town).
Performance from April 26, 2007
Approx. Length: 3 hours 15 minutes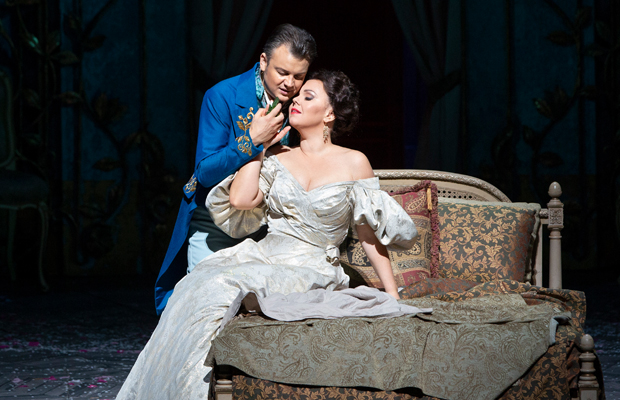 Dmytro Popov as Alfredo and Aleksandra Kurzak as Violetta. Photo: Marty Sohl/Met Opera.
Verdi's
La Traviata
January 16, 2021
One of opera's greatest scores features a cast of bright stars including Aleksandra Kurzak as the tragic heroine, Violetta; Dmytro Popov as her ardent lover, Alfredo; and Quinn Kelsey as Alfredo's stern father, Germont.
Performance from January 18, 2020
Approx. Length: 2 hours 55 minutes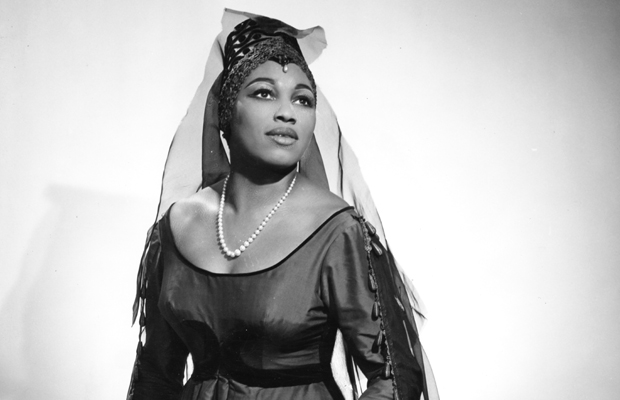 Leontyne Price as Leonora in Verdi's "Il Trovatore." Photo: Met Opera Archives.
Verdi's
Il Trovatore
January 23, 2021
The night Leontyne Price and Franco Corelli both made their Met debuts in Verdi's turbulent tale of love and revenge is historic. This broadcast is the next performance they gave and captures the excitement of hearing superstars in the making.
Performance from February 4, 1961
Approx. Length: 2 hours 50 minutes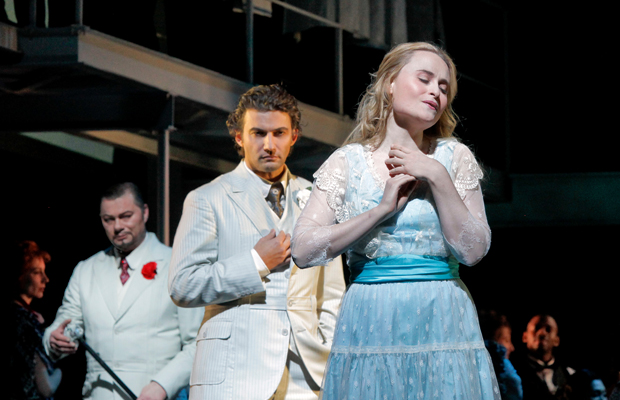 René Pape, Jonas Kaufmann and Marina Poplavskaya. Photo: Ken Howard/Met Opera.
Gounod's
Faust
January 30, 2021
Des McAnuff's thrilling 2011 production of Gounod's timeless story of a man who sells his soul to the devil for another chance at life and love. Jonas Kaufmann (Faust), René Pape (Méphistophélès) and Marina Poplavskaya (Marguerite).
Performance from December 10, 2011
Approx. Length: 3 hours 45 minutes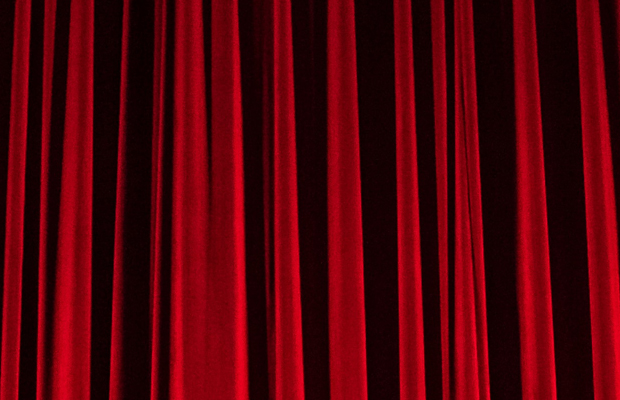 An iconic broadcast from the Met's archives chosen by listeners.
Listener's Choice
From the Archives
February 6, 2021
As part of the 2020–21 season of Saturday Matinee Broadcasts, the Met will present an iconic broadcast from the archives chosen by the radio audience. Choices included Wagner's Die Walküre, Donizetti's Lucia di Lammermoor, and Puccini's Madama Butterfly, among others.
Performance from 1940-1966
Approx. Length: TBA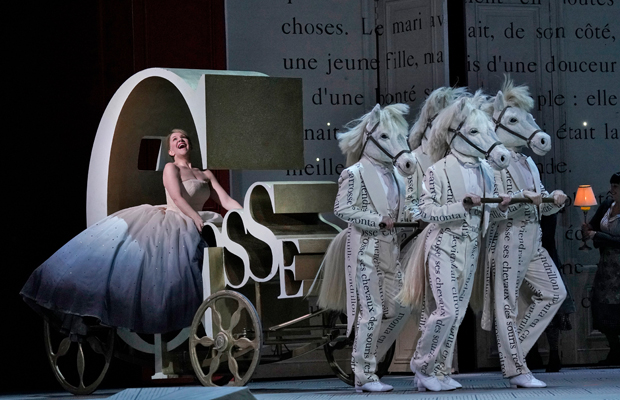 Joyce DiDonato. Photo: Ken Howard/Met Opera.
Massenet's
Cendrillon
February 13, 2021
Cendrillon, Massenet's adaptation of the Cinderella story, features Joyce DiDonato (Cendrillon), Alice Coote (Prince Charming), and Kathleen Kim (Fairy Godmother). Conductor Bertrand de Billy leads a performance that is equal parts madcap comedy and heartfelt romance.
Performance from April 28, 2018
Approx. Length: 3 hours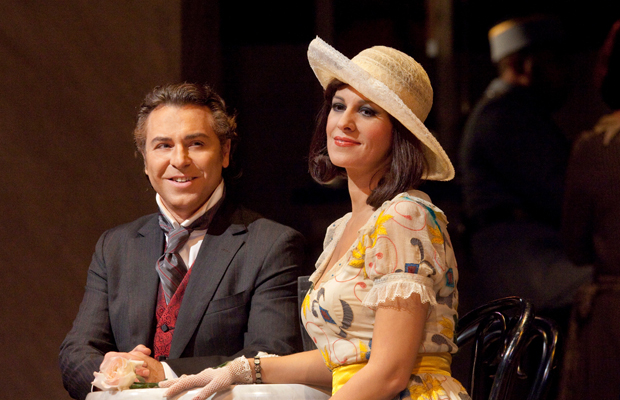 Angela Gheorghiu and Roberto Alagna. Photo: Ken Howard/Met Opera.
Puccini's
La Rondine
February 20, 2021
Puccini's score charmingly conveys the plight of Magda (Angela Gheorghiu) who unexpectedly finds true love with the handsome young Ruggero (Roberto Alagna) before she realizes her checkered past will ruin his future.
Performance from January 10, 2009
Approx. Length: 2 hours 25 minutes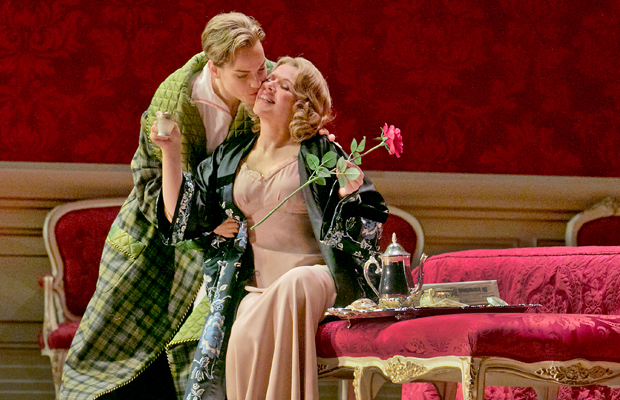 Elīna Garanča and Renée Fleming. Photo by Ken Howard/Met Opera.
Strauss's
Der Rosenkavalie
February 27, 2021
Renée Fleming is celebrated as one of the most compelling interpreters of Marschallin, the elegant princess coming to grips with the persistent passage of time. In this broadcast, she sings her final performance in this role. Sebastian Weigle conducts.
Performance from May 13, 2017
Approx. Length: 4 hours 5 minutes