Saturdays at 7pm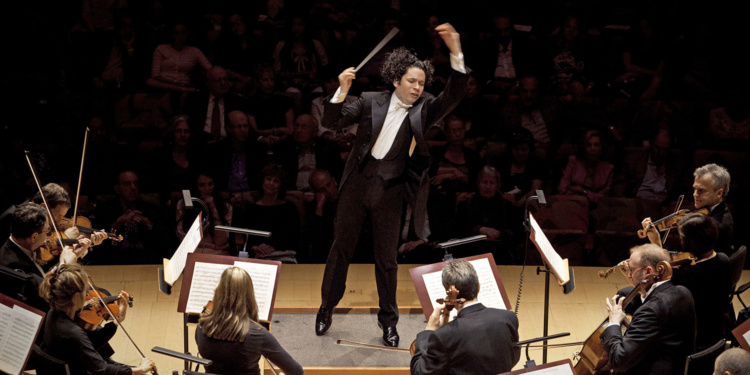 Gustavo Dudamel, Los Angeles Philharmonic.
This summer we are pleased to present a new season of the LA Philharmonic, the next orchestra partner in the newly launched WFMT Orchestra Series!
• Los Angeles Philharmonic starts the season by performing John Adams' "I Still Dance" and Gustavo Dudamel conducting Mozart's Concerto for Flute and Harp. Emmanuel Ceysson is featured on the harp playing Mozart's Serenade No. 6, "Serenata notturna."
• Gustavo Gimeno conducting Saint-Saëns' Piano Concerto No. 5, "The Egyptian" with Javier Perianes on piano. The broadcast begins with the US premiere of Francisco Coll's Aqua Cinerea.
• Helen Grime's "Meditations on Joy," commissioned by the LA Philharmonic makes its world premiere broadcast. This episode also includes Simone Lamsma on violin performing Bruch's Violin Concerto No. 1. Otto Tausk joins the performance conducting Brahms' Symphony No. 3.
• Zubin Mehta conducting Berlioz's "Symphonie fantastique" with Sophia Burgos as the soprano and Sebastian Dolinar performing as the boy soprano.
• The LA Philharmonic performs Anna Clyne's This Midnight Hour and Robert Schumann's Piano Concerto featuring Sunwook Kim on piano. Tianyi Lu conducts.
• Elim Chan conducts Thomas Adès' Violin Concerto "Concentric Paths" and the world premiere of Clarice Assad's new overture, commissioned by the LA Phil. The performance is featuring Leila Josefowicz on violin and Tchaikovsky's Symphony No. 5.
• Anna Thorvaldsdottir's "Archora" receives its US premiere on this broadcast. The Los Angeles Philharmonic also performs Beethoven's Piano Concerto No. 4, featuring Pierre-Laurent Aimard on piano.
• Gustavo Dudamel conducts Gabriella Smith's "Lost Coast" in a world premiere performance commissioned by the LA Phil. Gabriel Cabezas on cello and Beethoven's Symphony No. 7 Ellen Reid's "West Coast Sky Eternal."
• Gustavo Dudamel conducts Mozart's Piano Concerto No. 27 featuring Mitsuko Uchida on piano and Mozart's Symphony No. 41, "Jupiter" finish up this season.
Schedule
September 23, 2023

Conductor: Gustavo Dudamel
Soloist: Gabriel Cabezas, cello

Reid: West Coast Sky Eternal (world premiere, LA Phil commission)
Smith: Lost Coast (world premiere, LA Phil commission)
Beethoven: Symphony No. 7

---
September 30, 2023

Conductor: Gustavo Dudamel
Soloist: Mitsuko Uchida, piano

Mozart: Overture to The Magic Flute, K. 620
Mozart: Piano Concerto No. 27
Mozart: Symphony No. 41, "Jupiter"

---