Saturdays at 7pm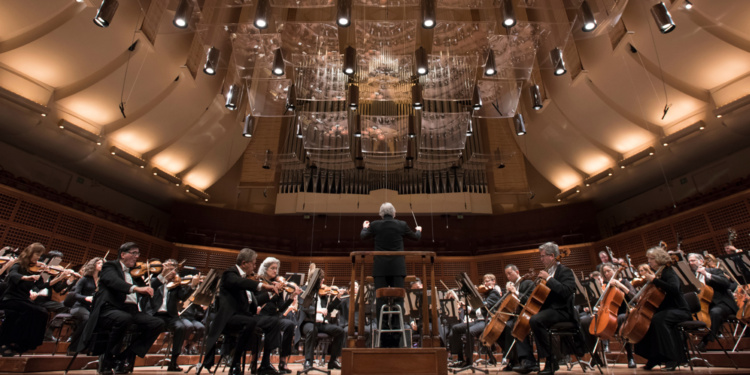 San Francisco Symphony. Credit: Stefan Cohen.
The WFMT Orchestra Series continues this spring with a new season of the San Francisco Symphony. Here are a few highlights:
• Esa-Pekka Salonen conducts the San Francisco Symphony in a program of two works by Debussy, Prélude à L'Après-midi d'un faune, and La Mer; Olivier Messiaen's Oiseaux exotiques, with pianist Jeremy Denk; and Kaija Saariaho's Aile du songe, with flutist Claire Chase.
• Michael Tilson Thomas conducts the Symphony in his own composition, Notturno, featuring flutist Demarre McGill; Mozart's Six German Dances, K. 509; and Schumann's Symphony No. 1 in B-flat major, Opus 38, Spring.
• Conductor Daniel Steward leads the Symphony in Anna Clyne's Sound and Fury; and Beethoven's Symphony No. 9 in D minor, Opus 125, with the San Francisco Symphony Chorus, featuring soloists Michelle Bradley, soprano; Jennifer Johnson Cano, mezzo-soprano; Mario Chang, tenor; and Rod Gilfry, baritone.
• Gustavo Dudamel is conductor for Mozart's Symphony No. 38 in D major, K. 504, Prague; and Mahler's Symphony No. 5 in C-sharp minor.
• Conductor Nathalie Stutzmann leads the Symphony in Tchaikovsky's Symphony No. 6 in B minor, Opus 74, Pathétique; and three selections by Brahms with the San Francisco Symphony Chorus, Nänie, Opus 82; Gesang der Parzen, Opus 89; and Schicksalslied, Opus 54.
• The San Francisco Symphony presents a program conducted by Esa-Pekka Salonen of Bartók's Piano Concerto No. 3, featuring pianist Pierre-Laurent Aimard; Boccherini's Ritirata notturna di Madrid from La musica notturna delle strade di Madrid, G. 324; Jessie Montgomery's Strum for String Orchestra; and Respighi's Pines of Rome.
Schedule