This time of year the airwaves are awash with Holiday Classics like "White Christmas", "Rudolph the Red-Nosed Reindeer" and yes, even "I Saw Mommy Kissing Santa Claus" and "All I want for Christmas Is You." But perhaps you are searching for something a bit more soothing, a bit more elegant, while you deal with all the activity and stresses of the Holiday Season. Well, then you have come to the right place! The only place you will find classical music for the holidays in our area is right here on KHFM. And that means a variety of music from instrumental and orchestral arrangements of classic carols, to music like oratorios and masses written over the centuries specifically for religious services during the season, to holiday-themed compositions for solo instruments, orchestra, and the stage, like Tchaikovsky's, The Nutcracker.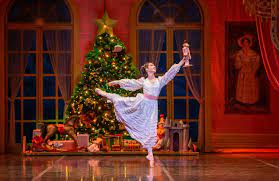 And listening to classical music during the holiday season is pretty appropriate. After all, famous composers through the years also celebrated Christmas and New Year's. In the case of our Santa "look alike" Johannes Brahms, the Christmas holiday was a big deal. He celebrated every year with friends at his favorite pub, The Red Hedgehog. Put a Santa suit on him below and he could have kids on his lap!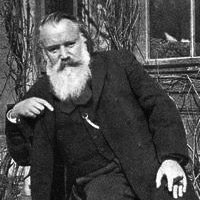 And then there are the compositions. Many of the most enduring of Finnish Christmas carols were written by Jean Sibelius for his family celebration of the holiday. Bach spent a lot of creative time writing cantatas and oratorios (one named Christmas) for the season – "Soli Deo Gloria" was his trademark signature. And what about Handel? Hello? Messiah? (And his lesser- known oratorio Judas Maccabaeus is performed around Hanukkah). Mendelssohn is the author of the music which became Hark! The Herald Angels Sing. Berlioz wrote L'Enfance du Christ. And of course, we all love Wagner's Christmas/birthday gift to his beloved wife Cosima, the Siegfried Idyll. Corelli, Poulenc, Schoenberg, Britten, Liszt, Rimsky-Korsakov, Elgar, Whitacre, Rutter…the list goes on and on of composers right up to the present day who have written beautiful musical works for the holidays.
The point is, there is nothing wrong with hearing all those pop Christmas classics that "popped" up mostly in the 20th century and beyond. They are festive and great and you'll find me singing along most of the time! But sometimes it is just nice to have a different musical twist to the Season and we are happy to provide that for you here on KHFM. Merry Christmas and a Happy New Year and Best Holiday Wishes for whatever you are celebrating!